Blue Peter joins a handful of UK TV programmes to have been on screen for at least 60 years.
Only three other series have run for longer, all on the BBC.
Top of the list is Panorama, which began on November 11 1953 and has clocked up nearly 65 years.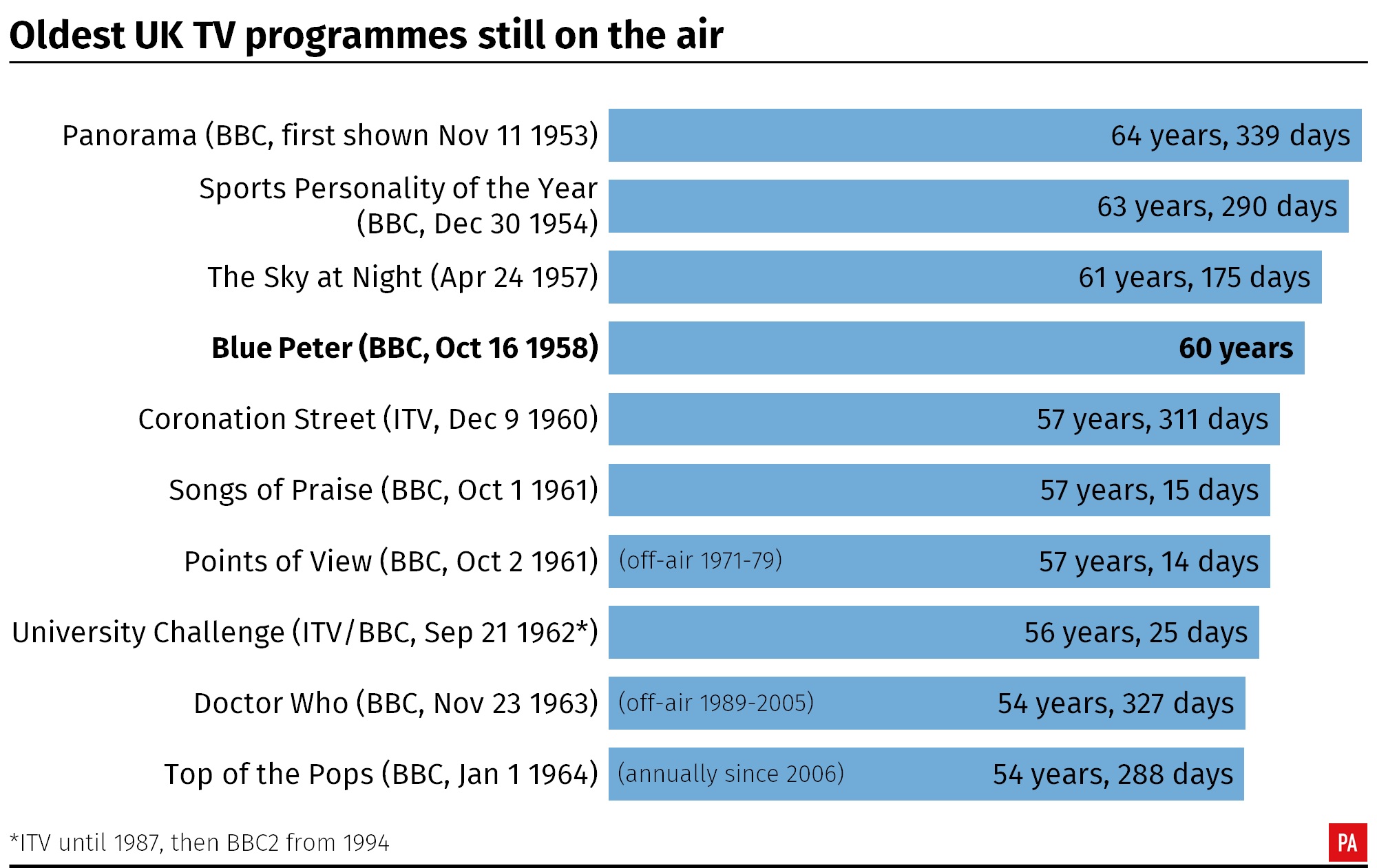 Sports Personality Of The Year began on December 30 1954 and has run for more than 63 years.
The Sky At Night launched on April 24 1957 and celebrated its 61st birthday earlier this year.
ITV's oldest programme is Coronation Street, which will pass 58 years in December.
Here are the 10 oldest UK TV programmes still on the air, as of October 16 2018:
1. Panorama (BBC, began November 11 1953): 64 years, 339 days since launch
2. Sports Personality Of The Year (BBC, December 30 1954): 63 years, 290 days
3. The Sky At Night (BBC, April 24 1957): 61 years, 175 days
4. Blue Peter (BBC, October 16 1958): 60 years
5. Coronation Street (ITV, December 9 1960): 57 years, 311 days
6. Songs Of Praise (BBC, October 1 1961): 57 years, 15 days
7. Points Of View (BBC, October 2 1961): 57 years, 14 days
8. University Challenge (ITV/BBC, September 21 1962*): 56 years, 25 days
9. Doctor Who (BBC, November 23 1963): 54 years, 327 days
10. Top Of The Pops (BBC, January 1 1964): 54 years, 288 days
*University Challenge was on ITV until 1987, then on BBC2 from 1994