Heather Watson branded a line judge "pathetic" and a "snitch" after being reported to the chair umpire for swearing in her Wimbledon women's doubles match.
Watson and her partner Tatjana Maria were docked a point in their quarter-final defeat to Czech pair Barbora Krejcikova and Katerina Siniakova after the official accused Watson of foul language.
That followed an earlier warning for hitting the ball off the court in the 3-6 7-6 (7/5) 6-4 defeat.
She fiercely denied the language accusation, even getting the crowd to back her up, but it fell on deaf ears as umpire Kader Nouni imposed the penalty.
Watson, who lost in the mixed doubles on Tuesday night, accused the line judge of classroom behaviour.
"I just went like that (hand clenched in front of face), and then said, 'Stupid', really loud," she said.
"And then he has gone up and told the referee that I said 'F****** stupid'. And I asked everybody behind me out loud, 'What did you hear me say?'. And everybody said, 'Stupid'.
"I just think it's really pathetic. It's like there is no point in it. You have got people in all different languages swearing constantly all the time.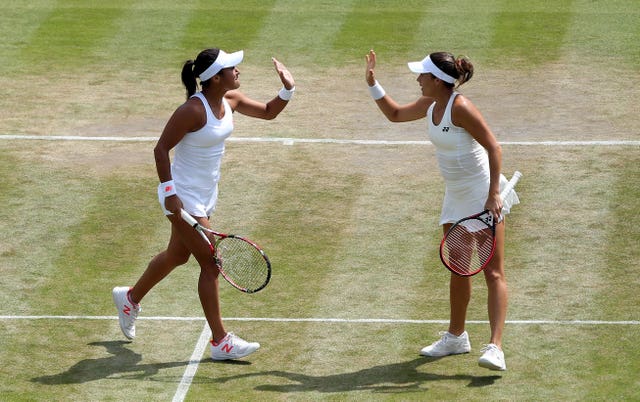 "I just said 'Stupid', nobody heard anything else and I just think it is really bad.
"I think it is a poor choice from him. It's just unfair. In that situation you're not telling people off when they are swearing in Czech or Spanish or whatever.
"It's literally like a snitch running to the front of the class saying, 'I heard her say this!'. I think it is so stupid. It is. I can't even explain."
Jamie Murray remained on course to defend his mixed doubles title with new partner Victoria Azarenka.
Scot Murray and former singles world number one Azarenka moved into the quarter-finals with a 7-6 (8/6) 6-3 win over Matwe Middelkoop and Johanna Larsson.